"I am a better investor because I am a businessman, and a better businessman because I am an investor."

Warren Buffett

Resourcing Executives. Not Imposing on Them.
Glenn B. Kaufman
Managing Director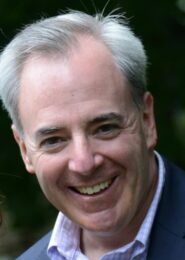 Glenn Kaufman is a Managing Director of D Cubed, and a 25 year veteran in private market investing. Having spent almost his entire career investing primarily on behalf of high net worth individuals and families, he helped  found Cubed to utilize that experience and to be the private-market investor of choice for companies, owners and executives in select sectors seeking a partner with the most focus, alignment and commitment to resourcing their success. In addition to helping to build the firm, Mr. Kaufman heads D Cubed's investment efforts in the foodservice, franchising, direct-to-consumer, and marketing services sectors, each of which he has been actively engaged in throughout his career.
Prior to forming D Cubed, Mr. Kaufman was a Managing Director, and played an extensive role in the building and growth, of American Securities Capital Partners, a successful (then) high net worth investor oriented private equity firm. He was actively engaged in a range of aspects of growing the firm and during his tenure the firm went from eight to seventy five individuals. He was also deeply involved with a number of partner companies, including Dr. Leonard's Healthcare (direct to consumer), El Pollo Loco and Potbelly Sandwich Works (foodservice), Press Ganey Associates (business services associated with healthcare providers), and Anthony International (food retail equipment provider). From August 2010 to December 2021, Mr. Kaufman has sat on the Board of Red Robin Gourmet Burgers (NASDAQ: RRGB) where he served on numerous committees and created and chaired the Finance Committee.
Mr. Kaufman has spent his career as an active and deeply engaged private-market investor in the middle-market, with all investments structured using prudent and simple leverage and virtually all having truly aligned capital structures. Every realized investment in which Mr. Kaufman has been meaningfully involved has earned positive (in some cases extremely positive) returns.
Throughout his 25 years of private-market investing, as well as in commercial and executive roles, Mr. Kaufman has developed an understanding of, and appreciation for, company operations and the core talent and cultural elements comprising organizations. He has acted as interim CEO of two companies, and was previously active in numerous  small businesses. He has a long track record of developing trust and respect-based relationships with CEOs and senior leadership teams of partner companies and believes deeply in the role of resourcing (not managing) such companies for success.
Previously he was an attorney with Cravath, Swaine & Moore, where he concentrated on private equity transactions, and worked in the small-business consulting group of Price Waterhouse.
Currently he chairs the boards of KEH Holdings (direct-to-consumer recommerce). Trading Company Holdings (direct to consumer in nice enthusiast brands), and Cool Group LLC (parent of KPS Global, primarily a provider of equipment market).
He is a graduate of the Wharton School of the University of Pennsylvania and of Harvard Law School. Glenn resides in Rye, New York and has two children. He is an avid tennis player and skier.