"I am a better investor because I am a businessman, and a better businessman because I am an investor."

Warren Buffett

Resourcing Executives. Not Imposing on Them.
Richard Garzia
Principal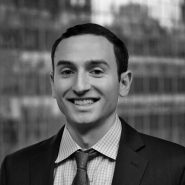 Mr. Garzia is a Principal at D Cubed Group.
He has over nine years of private equity experience. At D Cubed, he focuses on screening new investment opportunities, conducting due diligence, executing transactions, and working alongside partner companies post-investment.
Prior to joining D Cubed, Mr. Garzia was an investment professional at Pegasus Capital Advisors, a middle market private equity firm. While there, he evaluated and executed transactions in a variety of industries. Mr. Garzia also supported and worked closely with the executive teams leading the firm's portfolio companies post-acquisition to aid in implementing strategic initiatives, tracking performance, and completing follow-on investments.
Mr. Garzia graduated with the highest distinction from the Goizueta Business School of Emory University where he received a Bachelor of Business Administration with concentrations in finance and accounting.