"I am a better investor because I am a businessman, and a better businessman because I am an investor."

Warren Buffett

Resourcing Executives. Not Imposing on Them.
Kyle Peters
Senior Associate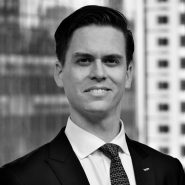 Mr. Peters is a Senior Associate at D Cubed Group.
At D Cubed, he focuses on screening new investment opportunities, conducting due diligence, executing transactions, and working alongside partner companies post-investment.
Prior to joining D Cubed, Mr. Peters was an investment associate at Castanea Partners, a middle market consumer and retail sector focused private equity firm with over $1 billion in assets under management. While there, he evaluated and executed transactions in a variety of consumer and retail subsectors. Mr. Peters also worked closely with management teams leading the firm's portfolio companies post-acquisition to aid in implementing strategic initiatives and tracking performance.
Prior to Castanea, Mr. Peters was an investment banking analyst at Nomura Securities, where he advised consumer products and retail clients on a variety of transactions including mergers and acquisitions, as well as debt and equity financings.
Mr. Peters graduated cum laude from the Dyson School of Applied Economics and Management at Cornell University, where he received a Bachelor of Science with concentrations in entrepreneurship and strategy.